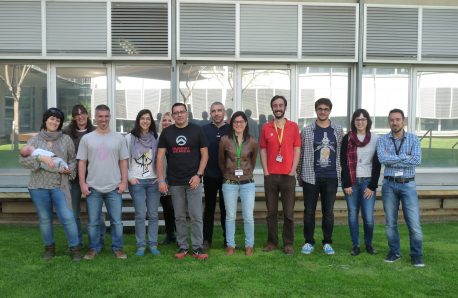 Abstract
The research on carbon neutral renewable energy sources based upon the combination of solution processing methods, nanostructured semiconductor inorganic materials and optoelectronic device physics is a powerful interdisciplinary platform for scientific research in the 21st Century. Since the group formation in 2006, our particular interest has been the development of earth abundant and molecular based solar cells and the detailed study of the interfacial charge transfer reactions that limit the efficiency on these novel generation of solar cells.
On the other hand, we also are devoted to the development and study of novel materials for biomedical applications that advance on the application of nano-science to medicine.
Topics addressed
Synthesis and characterization of organic semiconductor molecules
Dye-sensitized solar cells
Perovskite solar cells
Articles
Light driven styrene epoxidation and hydrogen generation using H2O as an oxygen source in a photoelectrosynthesis cell
Farràs, Pau; Di Giovanni, C; Clifford, JN; Garrido-Barros, P; Palomares, E; Llobet, A
Green Chemistry,18,1,255-260, 2016
Charge recombination losses in thiophene-substituted porphyrin dye-sensitized solar cells
Arrechea, Susana; Clifford, John N; Pellejà, Laia; Aljarilla, Ana; de la Cruz, Pilar; Palomares, Emilio; Langa, Fernando
Dyes and Pigments,126,.147-153,2016
Decreasing charge losses in perovskite solar cells through mp-TiO2/MAPI interface engineering
Marin-Beloqui, Jose Manuel; Lanzetta, Luis; Palomares, Emilio
Chemistry of Materials,28,1,207-213,2016
New solution-processable carbazole derivatives as deep blue emitters for organic light-emitting diodes
Reig, Marta; Bubniene, Giedre; Cambarau, Werther; Jankauskas, Vygintas; Getautis, Vytautas; Palomares, Emilio; Martínez
Ferrero, Eugenia; Velasco, Dolores
RSC Advances,6,11,9247-9253,2016
Increasing cell viability using Cd-free–InP/ZnS@ silica@ layered double hydroxide–materials for biological labeling
Serrano, Iván Castelló; Stoica, Georgiana; Palomares, Emilio
RSC Advances,6,37,31210-31213,2016.
Carbon quantum dots as new hole transport material for perovskite solar cells
Paulo, Sofia; Stoica, Georgiana; Cambarau, Werther; Martinez-Ferrero, Eugenia; Palomares, Emilio
Synthetic Metals,222,,17-22,2016.
Low Open-Circuit Voltage Loss in Solution-Processed Small-Molecule Organic Solar Cells
Tuladhar, Sachetan M; Azzouzi, Mohammed; Delval, Florent; Yao, Jizhong; Guilbert, Anne AY; Kirchartz, Thomas; Montcada, Nuria F; Dominguez, Rocio; Langa, Fernando; Palomares, Emilio;
ACS Energy Letters,1,1,302-308,2016
CuSCN as selective contact in solution-processed small-molecule organic solar cells leads to over 7% efficient porphyrin-based device
Morán, Gabriela; Arrechea, Susana; de la Cruz, Pilar; Cuesta, Virginia; Biswas, Subhayan; Palomares, Emilio; Sharma, Ganesh D; Langa, Fernando
Journal of Materials Chemistry A,4,28,11009-11022,2016.
Molecularly Engineered Ru (II) Sensitizers Compatible with Cobalt (II/III) Redox Mediators for Dye-Sensitized Solar Cells
Wu, Kuan-Lin; Huckaba, Aron J; Clifford, John N; Yang, Ya-Wen; Yella, Aswani; Palomares, Emilio; Grätzel, Michael; Chi, Yun; Nazeeruddin, Mohammad Khaja
Inorganic Chemistry,55,15,7388-7395,2016
Graphene and Carbon Quantum Dot-Based Materials in Photovoltaic Devices: From Synthesis to Applications
Paulo, Sofia; Palomares, Emilio; Martinez-Ferrero, Eugenia
Nanomaterials,6,9,157,2016
High photo-current in solution processed organic solar cells based on a porphyrin core A-π-D-π-A as electron donor material
Montcada, Núria F; Arrechea, Susana; Molina-Ontoria, Agustín; Aljarilla, Ana I; de la Cruz, Pilar; Echegoyen, Luis; Palomares, Emilio; Langa, Fernando
Organic Electronics,38,,330-336,2016
Efficiency improvement using bis (trifluoromethane) sulfonamide lithium salt as a chemical additive in porphyrin based organic solar cells
Arrechea, Susana; Aljarilla, Ana; de la Cruz, Pilar; Palomares, Emilio; Sharma, Ganesh D; Langa, Fernando
Nanoscale,8,41,17953-17962,2016
Encapsulation of MEH-​PPV:PCBM Hybrids in the Cores of Block Copolymer Micellar Assemblies: Photoinduced Electron Transfer in a Nanoscale Donor-​Acceptor System
Wang, Suxiao; Ryan, James William; Singh, Amita; Beirne, Jason Gerard; Palomares, Emilio; Redmond, Gareth. Langmuir, 32(1), 329-337, 2016